Software
The most intuitive, integrated algorithm development environment
Benefits:
Clean Interface
Automatic Code Generation
Numerical Analysis
Automatic Report Generation
Features
BE AN EXPERT IN YOUR OWN PRODUCT ENGINEERING. NOT IN TEST SOFTWARE ENGINEERING.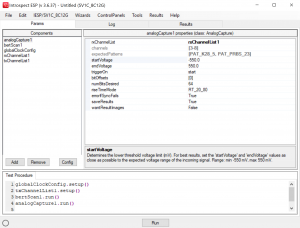 Introspect ESP's ultra-capable development environment allows you to easily and seamlessly develop and verify all your high-speed digital and mixed-signal algorithms. Designed for users with widely varying backgrounds and expertise, it offers an extremely intuitive interface simultaneously with infinitely extensible capability. From DC to GHz, from time-domain to frequency-domain, and from digital storage to video broadcast, Introspect ESP is the ideal development environment for the most specialized product engineering teams.
OPEN. SCRIPTED. TREMENDOUSLY ADAPTABLE.
Python Interpreter
Component Class Creation
Suite of Tests
Remote Operation
The genius in the Introspect ESP software is that it strikes a perfect balance between simplicity and advanced capability. It is loaded with technologies that allow you to expand its functionality in every way imaginable.
Modular, open, and scripted, it offers utilities that enable component class creation and new application invention without requiring any advanced software development expertise. And for the artistically inclined, it even allows you to create your own results icons and personalized test reports.
NEVER LOSE TRACK OF YOUR DEBUG HISTORY. EVER.
Show-as-Test
Data Logging
Automatic Note Insertion
Custom Debug Levels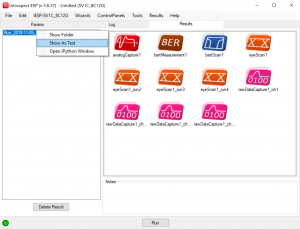 Intelligently self-aware, the Introspect ESP Software keeps track of every setting that you use and every result that you obtain, thus never losing track of your every debug step. The show-as-test feature allows you to restore any instrument and device-under-test state even if you have not saved your most recent Test Procedure. Coupled with automatic note insertion, custom debug-level control, and detailed data logging, the Introspect ESP software is the ideal solution for debug and development. This remarkable environment allows you to develop, execute, and report on your tests in record time.
Visit Introspect's YouTube Channel for Virtual Demos
Downloadable Items:
Manual
| Product Part Number | Product Description |
| --- | --- |
| IESPSW-PC-NLP | IESPSW-PC-NLP - PC Software, Node-Locked |
| IESPSW-PC-RUNTIME | IESPSW-PC-RUNTIME - Windows Runtime DLL for IESP Software |